JOYO Cab Box Guitar Cabinet Speaker Simulator And Ir Loader R-08
The JOYO CAB BOX is a guitar cabinet emulator, a guitar effect pedal that allows full configuration of vintage and modern amps. You can configure the power amp, Cab simulations, Microphone type and distance, EQ, midi control and loading & editing of 3rd party IR files.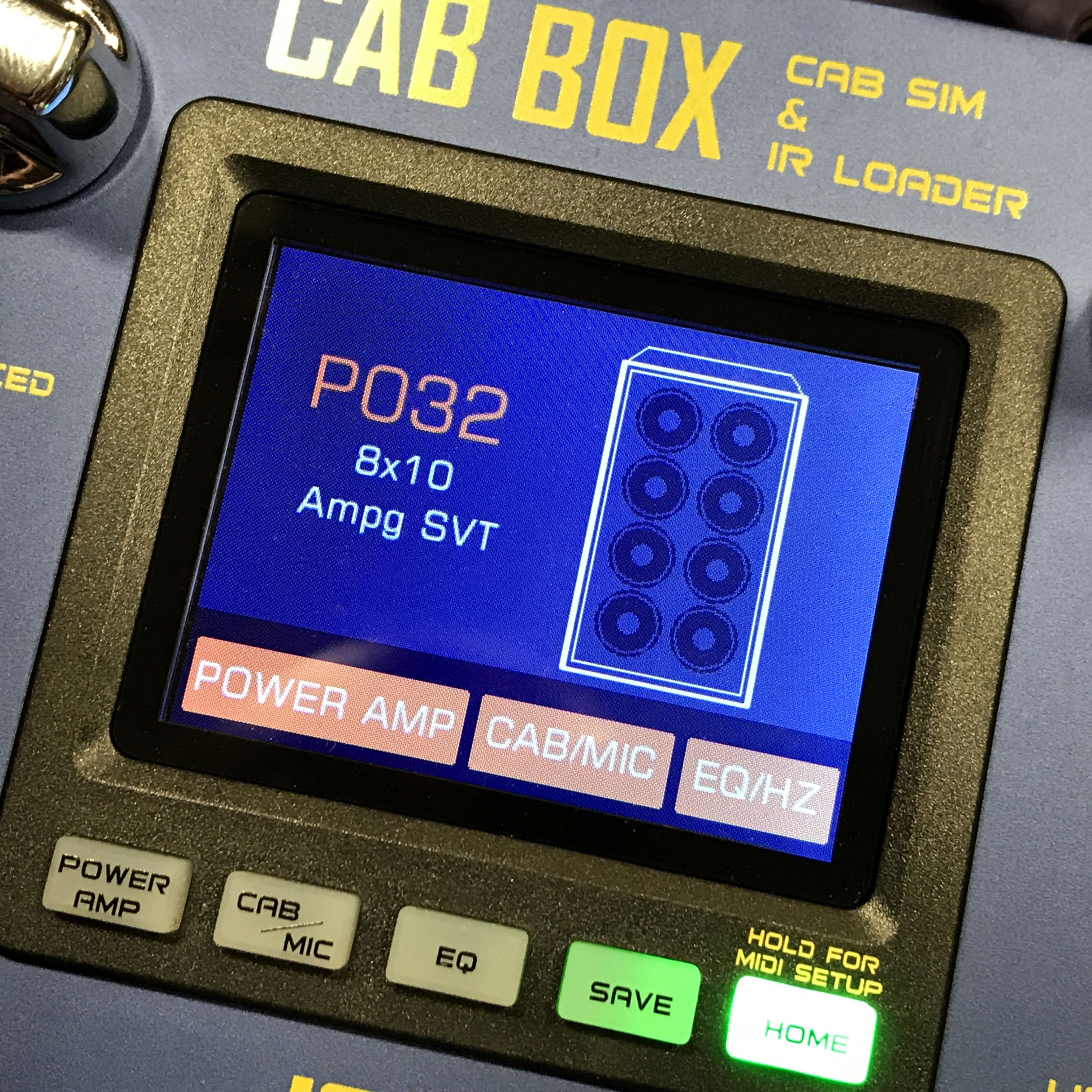 The Cab box makes everything about recording or performing so much easier and authentic with a massive array of adjustable parameters to achieve the custom guitar set-up of your choice.
The JOYO Cab Box has a straightforward and user-friendly interface that fits on the pedalboard, it offers full configuration and eliminates complex menu options found on amps, tablets and computers.
The sound of vintage and modern amps is at your feet.
The JOYO Cab box features
4 tube power amps - select and edit the tube parameter, Select tubes from 6L6,6V6, EL34 or EL84
20 cabinet models (see below)
11 classic microphone models - adjusting microphone model, microphone type, microphone angle position & distance.
3 fully configurable posts EQs for guitar, bass & parametric. With settings for Gain & Attenuation, Q value, Low & High Pass filtering. The 5 band EQ is fully customisable, setting the 5 bands from 80hz to 11khz and level adjustments as required for each.
20 preset IR loading and an additional 10 loading memory banks for third party IR.
128 cab memory slots to save all of your presets.
An IR is an impulse response (IR, for short) its a sound measurement that takes into account the conditions around a guitar cabinet speaker, including the room, microphone and mic preamp. The JOYO Cab box works with third-party IR files, simply connect to the pc/mac via USB for IR loading using the JOYO Cab software.
With the JOYO Cab Box IR loader, in addition to 20 preset saving locations, you can store 10 additional third-party IRs, Using the software you can load or delete third-party IRs and then apply these to the Cab box emulation.

IR sampling info:
IR file format: .wav
Sampling accuracy: 24bit
(supports 16/24/32 bits third-party IR files)
Sample rate: 44.1kHz
Sample's length:1024pts

The JOYO CAB BOX has many parameters to adjust, a large display screen, easy control buttons and sits nicely on the pedalboard. It is perfect on the board for performing, at the recording desk, mixer/pa or even at home using directly with headphones.
Inside the JOYO you will find cab boxes inspired by world-class vintage and modern Cabinet speakers amps:
Vibro Silver 1x8
Prince Reverb 1x10
57 Tweed 1x12
AC15 1x12
67 Twin 2x12
Matchless 2x12
AC30 Blue 2x12
64 Super 4x10
Bass Bigman 4x10
1960A Green 4x12
1960B V 30 4x12
Juice PPC 4x12
Sodano L 4x12
Recto MB S 4x12
Recto MB T 4x12
Die2al V30 4x12
Die2al G12 4x12
Ampeg SVT 1x15
Ampeg SVT 4x10
Ampg SVT 8x10
Microphones with distance and angle adjustment
SM57
SM58
MD421
MD441
U47
U87
RODENT1
MXL2001P
MXL2003
C3000
C4000B
Power Amp Tube Valves - Adjust input, presence and output.
Control buttons: Master Volume, Parameter Select, Power Amp, Cab/Mic, EQ, SAVE, HOME, LED Toggle
Specifications:
Input: 6.35mm mono plug
Output: 6.35mm mono plug
XLR balanced plug
3.5mm stereo plug
Input Impedance: 2.2MΩ
Output Impedance: 470Ω
XLR Output Impedance: 470Ω
Headphones Impedance: 35Ω
Working Current: 300mA
Working Voltage: DC 9V(centre minus)
Dimensions: 130*110*50mm
Weight: 418g
cant find what you need, let us know.
JOYO Audio UK - Order Payment & Delivery Information
Estimated Delivery & Despatch Dates
If the items are in stock we will despatch in 1-2 working days via Royal Mail (Small Package Signed for & tracked ) or DPD,
If the items are out of stock we will advise you of a delivery time, if we are unable to confirm a new delivery time due to stock availability we will confirm this with you and refund your order at the earliest opportunity
Delivery Charges
All items are despatched from JOYO Audio UK in Manchester England. Current postage rates apply https://www.royalmail.com/price-finder .
| | | | | |
| --- | --- | --- | --- | --- |
| Royal MailSigned For® 2nd Class Parcel More details | 3 days delivery aim | Up to £50 for loss or damage | Proof of Delivery | |
Delivery Packaging
All of our items are despatched in plain packaging for maximum discretion.
A packing slip and VAT receipted invoice are included with your order.
We will also email you a PDF, invoice for your records, creating an account lets you see this information in your user area.
Delivery Options
Orders sent from JOYO Audio UK can be delivered by several postal carriers.
We require a signature on delivery so please take this into account when selecting a delivery address.

Many of our carriers will make several attempts to deliver a package and should always leave a card to notify you that a delivery attempt has been made along with details of how you can contact them to rearrange delivery. We will provide you with tracking details that can be tracked online.
Availability
All items are subject to availability and are displayed at checkout. We will inform you as soon as possible if the goods you have ordered are not available. Stock is highlighted when out of stock.
Ordering Errors
You can correct errors on your order at any point in our ordering process, either online, by email or by telephone.

Acknowledgement and acceptance of your order
If you have supplied us with your email address, we will notify you by email as soon as possible to confirm receipt of your order and email you again to confirm details. Our acceptance of your order will take place upon despatch of the product(s) ordered.
Occasionally, the despatch of your order may be delayed. This can be for various reasons such as material shortages, import delays or higher than anticipated demand. We will, of course, make every effort to keep you informed. Our stock levels are maintained in the UK and we work hard to keep maintain.
Cancellation Right - Returning
You will only be able to exercise this right if you can return to us the goods you ordered unworn, undamaged, including any promotional gifts and with all original packaging as originally supplied within 30 days of purchase.

Any refund will exclude our initial outgoing postage costs.

Failing to take care of the goods whilst in your position and returning them with any damage, may incur a repackaging & testing fee.
Proforma Payment, Pricing & Promotions
All items must be paid for before the despatch of goods. Payment of goods can be made by bank transfer, credit or debit card, PayPal and by cheque. If paying by cheque please make payable to Joyo Audio Uk Ltd and allow 5 working days for the funds to clear before the goods can be dispatched.
Special Offers can be viewed in the Retailer account area.