JOYO Jackman Bantamp Guitar Amp Head 20W Pre Amp Tube Hybrid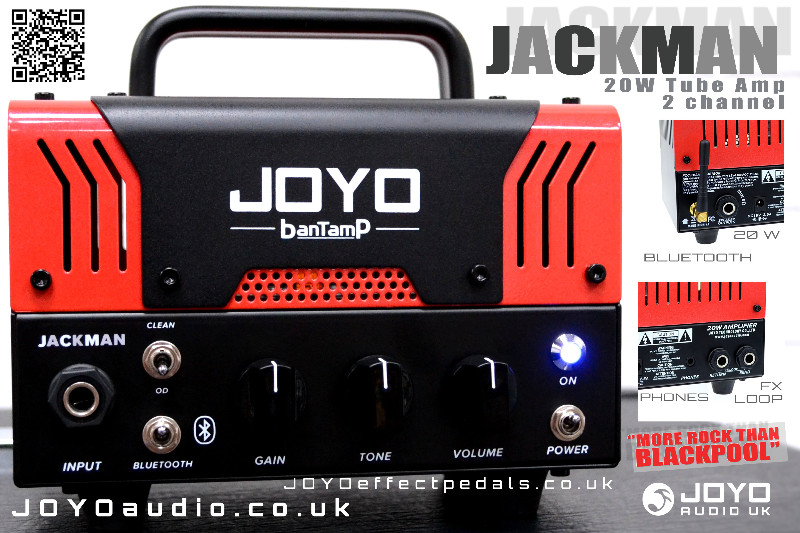 The JaCkMan Bantamp head blends valve and solid state guitar amplifier technology, resulting in a tiny amp head that can produce an immense sound representative of a classic British amp.
The JOYO Bantamp series are arguably the most feature rich & versatile mini amp heads available
JOYO JaCkMan micro Amp Features
1 x 12AX7 Preamp tube
Clean Channel
Distortion Channel
FX Loop
Bluetooth
Headphone Out
Built in Cab Speaker Amp Simulation
Rated power:20W
Speaker impedance:8Ω/16Ω
The JaCkMan has a 1 x 12AX7 Preamp tube - The ability to reproduce the true sound of your guitar was a key factor in assessing a tube for use with the JOYO Bantamp series. The 12AX7 pre amp tube produces the warm smooth overdrive tones that do not clip tone as a typical fixed state amp head would. The Tube Pre amp has the sonic focus of phattening tone stages and keeps your guitar sounding true to its original tone.
Clean Channel
With 2 channels flick the Jackman amp to the CLEAN channel and use with your array of guitar pedals. A two channel amp makes a guitar head twice as versatile as alternatives and a makes great companion for musicians at practice or on the road. The JaCkMan will keep it clean and puts everything in place for the drive of your life.
Overdrive Channel
The JACKMAN comes alive with its gain settings, you may want to use your favourite overdrive pedals to push it even further into higher gain territory with your own unique flavour. Push the drive and you will hear the JaCkMan scream. You may actually benefit from an additional Noise Gate to control!
FX Loop
The FX loop on a guitar amplifier enables you to put your modulated based effects (Phasers, Flanger, tremolo and Chorus) after the JaCkMan delivers its drive magic. The FX loop keeps the modulated effects pure and will prevent them from becoming muddied from the amp gain.
Bluetooth Wireless Connectivity
Pair your Bluetooth device to the JaCkMan and jam along to your favourite classic rock tracks, connect your external device via Bluetooth and play your audio tracks cleanly through the amps Bluetooth receiver channel. We find that this is the great way to practice guitar with and to learn new songs without a big tangle of wires.
Headphone Out with Built in Cab Speaker Amp Simulation
The amp has a speaker out rated at 8Ω and can also be operated at 16Ω.
Careful, the amp is small, but 20 Watts is loud and will deliver a handful. If you want to practice quietly, use the built in headphone out with speaker emulation, you get the same great tone as you would from a 150 watt mega amp.
Once you start working with this amp, you will soon forget its size. You will not forget the very affordable price and amazing tone it delivers. It will feel as if you are playing through a much bigger head amp and your audience just won't believe where your sound is really coming from.
You can tell them, this is the new JOYO JaCkMan, it's got more ROCK than Blackpool..
Features:
1 x 12AX7 Preamp tube
Clean Channel
Distortion Channel
FX Loop
Bluetooth
Headphone Out (Amp mutes when connected)
Built in Cab Speaker Amp Simulation
Rated power:20W / 8Ω
Speaker impedance:8Ω/16Ω
Size : 163mm x 110mm x 140mm
Weight : 1.2kg or 1200g..
Power :Connect with UK 18v/2.5a power adapter as supplied.
In the box:

1 x bantamp amplifier
1 x power adapter
1 x warranty
1 x operation guide.
cant find what you need, let us know.
JOYO Audio UK - Order Payment & Delivery Information
Estimated Delivery & Despatch Dates
If the items are in stock we will despatch in 1-2 working days via Royal Mail (Small Package Signed for & tracked ) or DPD,
If the items are out of stock we will advise you of a delivery time, if we are unable to confirm a new delivery time due to stock availability we will confirm this with you and refund your order at the earliest opportunity
Delivery Charges
All items are despatched from JOYO Audio UK in Manchester England. Current postage rates apply https://www.royalmail.com/price-finder .
| | | | | |
| --- | --- | --- | --- | --- |
| Royal MailSigned For® 2nd Class Parcel More details | 3 days delivery aim | Up to £50 for loss or damage | Proof of Delivery | |
Delivery Packaging
All of our items are despatched in plain packaging for maximum discretion.
A packing slip and VAT receipted invoice are included with your order.
We will also email you a PDF, invoice for your records, creating an account lets you see this information in your user area.
Delivery Options
Orders sent from JOYO Audio UK can be delivered by several postal carriers.
We require a signature on delivery so please take this into account when selecting a delivery address.

Many of our carriers will make several attempts to deliver a package and should always leave a card to notify you that a delivery attempt has been made along with details of how you can contact them to rearrange delivery. We will provide you with tracking details that can be tracked online.
Availability
All items are subject to availability and are displayed at checkout. We will inform you as soon as possible if the goods you have ordered are not available. Stock is highlighted when out of stock.
Ordering Errors
You can correct errors on your order at any point in our ordering process, either online, by email or by telephone.

Acknowledgement and acceptance of your order
If you have supplied us with your email address, we will notify you by email as soon as possible to confirm receipt of your order and email you again to confirm details. Our acceptance of your order will take place upon despatch of the product(s) ordered.
Occasionally, the despatch of your order may be delayed. This can be for various reasons such as material shortages, import delays or higher than anticipated demand. We will, of course, make every effort to keep you informed. Our stock levels are maintained in the UK and we work hard to keep maintain.
Cancellation Right - Returning
You will only be able to exercise this right if you can return to us the goods you ordered unworn, undamaged, including any promotional gifts and with all original packaging as originally supplied within 30 days of purchase.

Any refund will exclude our initial outgoing postage costs.

Failing to take care of the goods whilst in your position and returning them with any damage, may incur a repackaging & testing fee.
Proforma Payment, Pricing & Promotions
All items must be paid for before the despatch of goods. Payment of goods can be made by bank transfer, credit or debit card, PayPal and by cheque. If paying by cheque please make payable to Joyo Audio Uk Ltd and allow 5 working days for the funds to clear before the goods can be dispatched.
Special Offers can be viewed in the Retailer account area.