JOYO Badass Bantamp Bass Amplifier Head for Bass Guitar RMS 50W
The JOYO Badass is a hybrid (valve/solid state) Head for Bass Guitar from the popular Bantamp series of JOYO amplifiers. The bass amplifier head features 2 settings 'Normal & Compressor' with Power output (RMS) of 50 watts.



The Pre-Amp uses the 12AX7 tube, with a frequency Range: 10 Hz - 18 Khz. Adjusting the controls on the front panel of Low, Mid, Hi, Comp, Gain, Vol.

The Switches: Normal/Compressor. Bluetooth & Power.

Built in Effects: Compressor; Effect Loops with FX Send & Return.

The JOYO Badasshas a 12AX7 Preamp tube - The ability to reproduce the sound of the bass was a key factor in assessing a tube for the JOYO Bantamp XL series. The 12AX7 pre amp tube produces the warm smooth tones that do not clip tone as a typical fixed state amp head would. The Tube Pre amp has the sonic focus of warming tone stages and keeps your bass guitar sounding true to its original tone.
Normal Channel

With 2 different states to select from, stomp on the footswitch to the Normal channel and use with your array of guitar, switch again to introduce the compressor effect.

A two channel amp makes a bass head twice as versatile as alternatives and a makes great companion for musicians at practice or on the road. The Bantamp XL will always be true to itself.

Compressor Effect

This litte BadASS comes alive with its broad compressor depth & gain settings. You can still use your favourite overdrive pedals to push things even further with your own unique flavour pedals, or in the FX loop for some superior control.

Push the drive and you will feel the bass kick some ass.
Foot Switch

A solid footswitch to remotely move between settings. !

FX Loop

The FX loop on a guitar amplifier enables you to put your modulated based effects (Phasers, Flanger, tremolo and Chorus) after the JOYO Bantamp XL delivers its drive magic. The FX loop keeps the modulated effects pure and will prevent them from becoming muddied from the amp gain. Adding an EQ into the FX loop can add more control over your gain tone.

Bluetooth Wireless Connectivity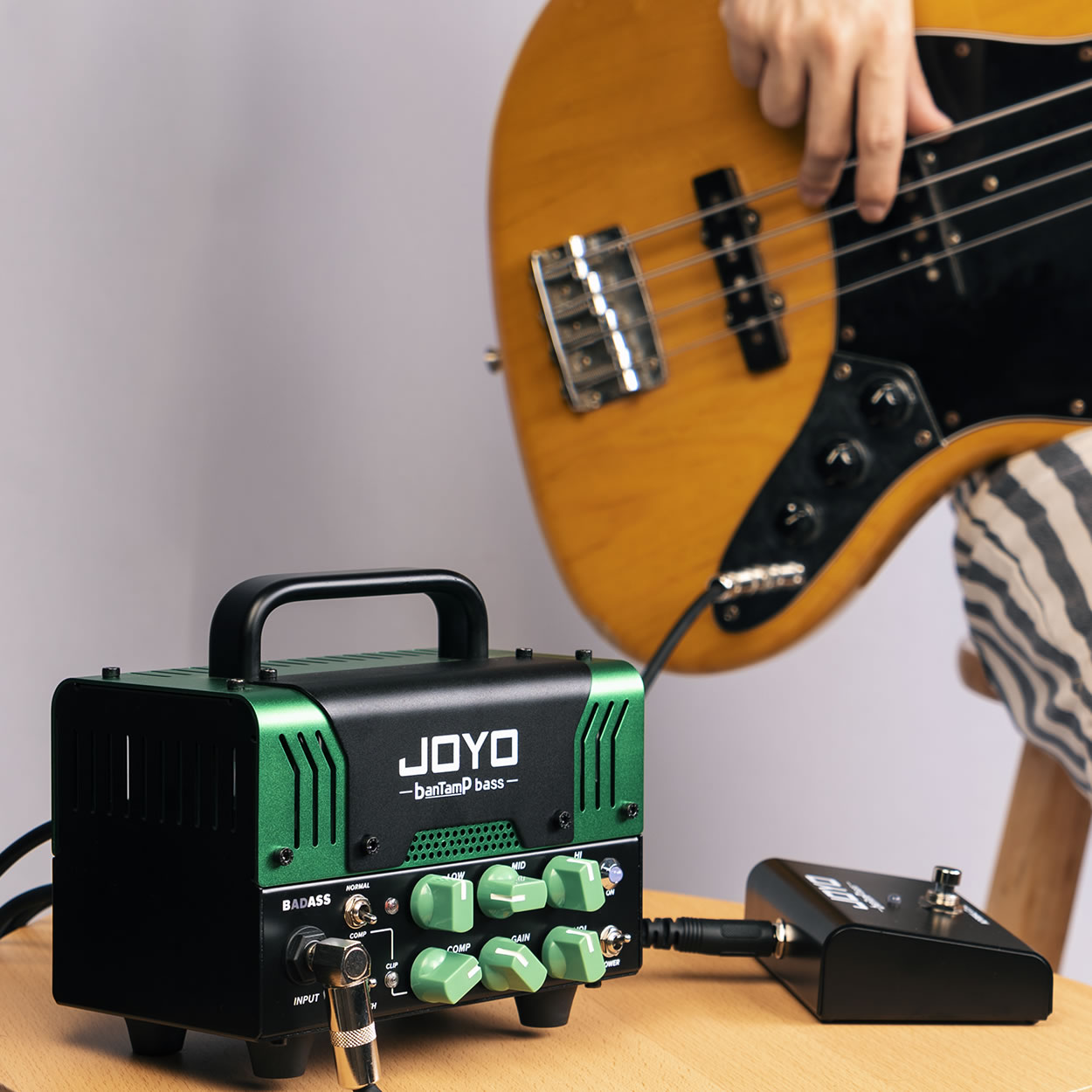 Pair your Bluetooth device to the Bantamp XL and jam along to your favourite tracks, connect your external device via Bluetooth and play your audio tracks cleanly through the amps Bluetooth receiver channel. We find that this is the great way to practice guitar with and to learn new songs without a big tangle of wires.
Headphone Out with Built in Cab Speaker Amp Simulation

With an upgraded headphone & Line Out, the Bantamp XL from JOYO has a speaker out rated at 4 OHM, but will work with higher rated speakers 8-16.

If you do not have a cab, you can even just use the amp on headphones, or into your DI/PA system, perfect for recording straight into your set up, without the load.

Careful, the amp is small, but 50 Watts is loud and will deliver a handful.

Once you start working with the new JOYO Bantamp XL guitar & bass amplifiers, you will forget their physical size, the tones achieved here are eXtra Large.
Specifications
Connections Input (1/4" Jack)
Headphones (6.3mm TRS-Jack), standrd 32O minimum16O
Footswitch (1/4" Jack)
Speaker Outputs Speaker Output (1/4" Jack)
Dimensions (W x D x H): 163 x 110 x 140 mm
INPUT AC 100-240V 50/60Hz OUTPUT DC18V/2.0A
Weight 1320g
Bluetooth Version 4.0
RMS 50W/4O

cant find what you need, let us know.
JOYO Audio UK - Order Payment & Delivery Information
Estimated Delivery & Despatch Dates
If the items are in stock we will despatch in 1-2 working days via Royal Mail (Small Package Signed for & tracked ) or DPD,
If the items are out of stock we will advise you of a delivery time, if we are unable to confirm a new delivery time due to stock availability we will confirm this with you and refund your order at the earliest opportunity
Delivery Charges
All items are despatched from JOYO Audio UK in Manchester England. Current postage rates apply https://www.royalmail.com/price-finder .
| | | | | |
| --- | --- | --- | --- | --- |
| Royal MailSigned For® 2nd Class Parcel More details | 3 days delivery aim | Up to £50 for loss or damage | Proof of Delivery | |
Delivery Packaging
All of our items are despatched in plain packaging for maximum discretion.
A packing slip and VAT receipted invoice are included with your order.
We will also email you a PDF, invoice for your records, creating an account lets you see this information in your user area.
Delivery Options
Orders sent from JOYO Audio UK can be delivered by several postal carriers.
We require a signature on delivery so please take this into account when selecting a delivery address.

Many of our carriers will make several attempts to deliver a package and should always leave a card to notify you that a delivery attempt has been made along with details of how you can contact them to rearrange delivery. We will provide you with tracking details that can be tracked online.
Availability
All items are subject to availability and are displayed at checkout. We will inform you as soon as possible if the goods you have ordered are not available. Stock is highlighted when out of stock.
Ordering Errors
You can correct errors on your order at any point in our ordering process, either online, by email or by telephone.

Acknowledgement and acceptance of your order
If you have supplied us with your email address, we will notify you by email as soon as possible to confirm receipt of your order and email you again to confirm details. Our acceptance of your order will take place upon despatch of the product(s) ordered.
Occasionally, the despatch of your order may be delayed. This can be for various reasons such as material shortages, import delays or higher than anticipated demand. We will, of course, make every effort to keep you informed. Our stock levels are maintained in the UK and we work hard to keep maintain.
Cancellation Right - Returning
You will only be able to exercise this right if you can return to us the goods you ordered unworn, undamaged, including any promotional gifts and with all original packaging as originally supplied within 30 days of purchase.

Any refund will exclude our initial outgoing postage costs.

Failing to take care of the goods whilst in your position and returning them with any damage, may incur a repackaging & testing fee.
Proforma Payment, Pricing & Promotions
All items must be paid for before the despatch of goods. Payment of goods can be made by bank transfer, credit or debit card, PayPal and by cheque. If paying by cheque please make payable to Joyo Audio Uk Ltd and allow 5 working days for the funds to clear before the goods can be dispatched.
Special Offers can be viewed in the Retailer account area.