JOYO Jp-05 Guitar Effect Pedal Power Supply 8 Outputs 9V 12V 18V Usb & Rechargeable
The JOYO JP 05 Power Supply features a UK power supply, 8 DC outputs, 4 x 100ma 9v, 3 x 500ma 9v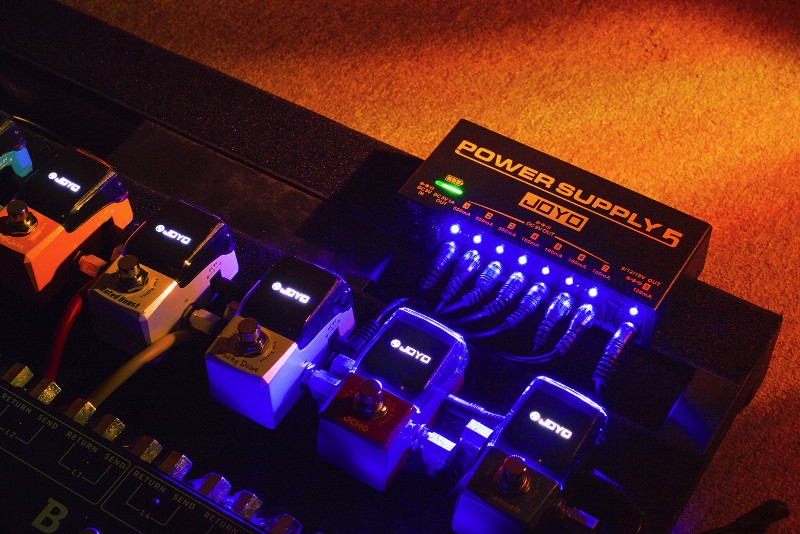 and 1 switchable to 9v, 12v or 18v at 100ma. The power supply also features a 5v USB, perfect for power USB devices & charging your phone.
Please note this is supplied with a UK mains adapter.
To top off the feature list, the power supply has a built in 7.4v/4400 mAh rechargeable lithium battery pack which charges fully in 2.5 hours making sure that you are never without power.
Each output of the power supply features independent filters, output overload & short-circuit protection protecting your pedals and filtering out any unwanted noises.
Battery Level indicator - The Power supply has a 4 stage battery indicator, you can use the supply when it is in charging mode powered by the supplied JOYO 9v 2000ma adaptor.
The level of battery power will be indicated by the LED display on the top of the pedal.
0% - Red flashing (charge it up!)
0-30% - Red
30-60% - Yellow
60-100% - Green
Charging - Flashing above colour to show status and charged within 2.5 hours
Who doesn't love a LED to show off your gear, the JP-05 will shine brightly, 8 LEDS can light up your board in a bright cool blue glow. A word of warning, don't press the on/off button to toggle these lights on and off whilst looking at them like I just did. They are very bright, much brighter than the LEDS on the JP02, the option to turn them off or on are a nice touch. If you are using the supply as a portable unit, it would make sense to turn them off.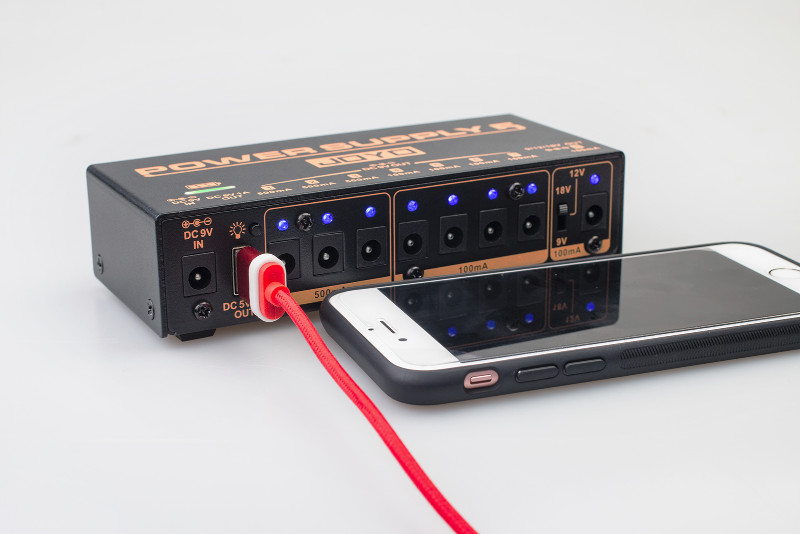 DC Outputs 1-3 are 9v centre negative with 500ma each, suitable for many high end digital pedals requiring more oomph and suitable for many standard pedals too requiring less. In theory you could even run a daisy for 5 x 100ma pedals of each output, that's 15 pedals! If you are thinking of doing that, read our guide on power supplies for best practices.
DC Outputs 4-7 are also 9v centre negative with 100ma, suitable for the most guitar pedals at 100ma or less.
DC Output 8 can be switched from 9v,12v or 18v at 100ma.
So that makes a pretty versatile power supply, useful for guitar effects and other electronic instruments. The JOYO JP-05 is even supplied with a polarity converter for instruments/effects that require a centre positive supply.
Dimension 146*65*35mm
Weight 620g
9v 2a power adapter
DC cables for your pedals x 8
Jack Outer 5.5mm
Jack Inner 2.1mm
Reversed Polarity cable x 1
charged within 2.5 hours
cant find what you need, let us know.
JOYO Audio UK - Order Payment & Delivery Information
Estimated Delivery & Despatch Dates
If the items are in stock we will despatch in 1-2 working days via Royal Mail (Small Package Signed for & tracked ) or DPD,
If the items are out of stock we will advise you of a delivery time, if we are unable to confirm a new delivery time due to stock availability we will confirm this with you and refund your order at the earliest opportunity
Delivery Charges
All items are despatched from JOYO Audio UK in Manchester England. Current postage rates apply https://www.royalmail.com/price-finder .
| | | | | |
| --- | --- | --- | --- | --- |
| Royal MailSigned For® 2nd Class Parcel More details | 3 days delivery aim | Up to £50 for loss or damage | Proof of Delivery | |
Delivery Packaging
All of our items are despatched in plain packaging for maximum discretion.
A packing slip and VAT receipted invoice are included with your order.
We will also email you a PDF, invoice for your records, creating an account lets you see this information in your user area.
Delivery Options
Orders sent from JOYO Audio UK can be delivered by several postal carriers.
We require a signature on delivery so please take this into account when selecting a delivery address.

Many of our carriers will make several attempts to deliver a package and should always leave a card to notify you that a delivery attempt has been made along with details of how you can contact them to rearrange delivery. We will provide you with tracking details that can be tracked online.
Availability
All items are subject to availability and are displayed at checkout. We will inform you as soon as possible if the goods you have ordered are not available. Stock is highlighted when out of stock.
Ordering Errors
You can correct errors on your order at any point in our ordering process, either online, by email or by telephone.

Acknowledgement and acceptance of your order
If you have supplied us with your email address, we will notify you by email as soon as possible to confirm receipt of your order and email you again to confirm details. Our acceptance of your order will take place upon despatch of the product(s) ordered.
Occasionally, the despatch of your order may be delayed. This can be for various reasons such as material shortages, import delays or higher than anticipated demand. We will, of course, make every effort to keep you informed. Our stock levels are maintained in the UK and we work hard to keep maintain.
Cancellation Right - Returning
You will only be able to exercise this right if you can return to us the goods you ordered unworn, undamaged, including any promotional gifts and with all original packaging as originally supplied within 30 days of purchase.

Any refund will exclude our initial outgoing postage costs.

Failing to take care of the goods whilst in your position and returning them with any damage, may incur a repackaging & testing fee.
Proforma Payment, Pricing & Promotions
All items must be paid for before the despatch of goods. Payment of goods can be made by bank transfer, credit or debit card, PayPal and by cheque. If paying by cheque please make payable to Joyo Audio Uk Ltd and allow 5 working days for the funds to clear before the goods can be dispatched.
Special Offers can be viewed in the Retailer account area.