JOYO Meteor 2 - XL Edition  Bantamp Tube Guitar Amplifier
The JOYO Bantamp XL meteOR 2 has a 12AX7 Preamp tube - The ability to reproduce the most natural sound of the instrument was a key factor in assessing a tube for the JOYO Bantamp XL series.
The Bantamp Meteor 2 XL uses the 12AX7 pre amp tube produces warm smooth overdrive tones that do not clip as a typically fixed state amp head would. The Tube Pre amp has the sonic focus of warm tone stages and keeps your guitar sounding true.
The Bantamp may be small but is extra mighty in sound. The JOYO Meteor 2 Bantamp XL features a 2 channel switching footswitch, with independent controls to adjust each channel's tone, volume and gain settings.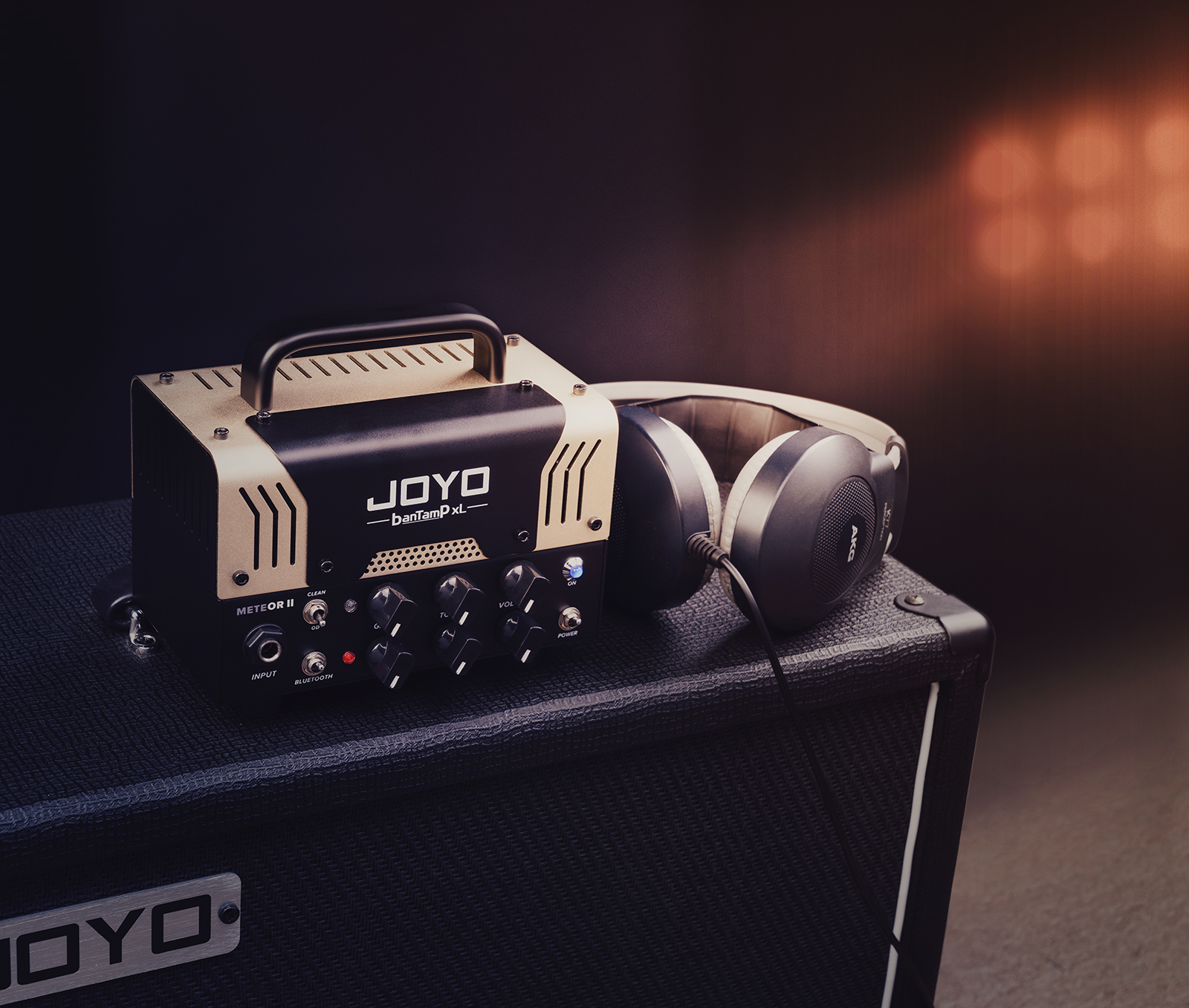 With every highly sought after original amp, The JOYO MeteOR 2 XL BAntamp delivers in all areas, it is an accurate representation that we have been 'Root'ing for (4).
The 2 channel amp is perfect for clean tones through to satisfying any chugging Slipknot 'Terror' fan. Our best selling Orange Juice Amplifier Sim & MeteOR BantamP all deliver the Orange amp sounds suited & booted for classic UK rock, punk, Grunge & Nu Metal, Thrash & more.
JOYO Bantamp XL Meteor 2 Guitar Head Amp Features
Meteor 2 XL Bantamp
1 x Footswitch
1 x 12AX7 Preamp tube
Clean Channel
Overdrive Channel
Channel footswitch
FX Loop
Bluetooth
Headphone / Line Out with built-in Cab Speaker Amp Simulation
Rated power:20W
Speaker impedance:8O/16O
Clean Channel
A two-channel amp makes a guitar head twice as versatile as alternatives and makes a great companion for musicians at home, at practice or on the road. The Bantamp XL will keep it clean.

Overdrive Channel
The Bantamp XL comes alive with its impressive gain settings. The dirty sounding amp has all the electronic wizardry of an extraordinary amplifier with a stunning clean tone through to the Terror overdrive guitarists crave.
a portable, affordable amplifier head with loud, saturated rock and metal tone
Based on what is an original highly sought-after guitar collector's piece, this two-channel head from JOYO sings and snarls with the infamous gain

Adjusting the independent channel, tone and gain provide a versatile range of amp settings, suitable for classic rock & more.
Foot Switch
A solid footswitch to remotely move between your 2 channel amp!
FX Loop
The FX loop on a guitar amplifier enables you to put your modulated based effects (Phasers, Flanger, Tremolo, Chorus, Delay or Reverb) after the JOYO Bantamp XL delivers its drive magic.
The FX loop keeps the modulated effects pure and will prevent them from becoming muddied from the amp gain.

Bluetooth Wireless Connectivity

We find that this is a great way to practice the guitar using headphones, plug your guitar in, connect to your device & noodle along. So great to learn new songs and to turn your guitar into a vintage classic.

JOYO Meteor 2 - Headphone Out with Built in Cab Speaker Amp Simulation
With an upgraded headphone & Line Out, the Bantamp XL from JOYO has a speaker out rated at 8O and can also be operated at 16O.
JOYO Meteor 2 - 20 Watts - Tube
Careful, the amp is small, but a 20 Watts tube head is loud and will deliver a Terrifying dB..
JOYO Meteor 2 - No-load required
There is no need to have a guitar cabinet to balance loads, just plug at the end of your headphones enjoy !..If you want to practice quietly, you can plug the Bantamp directly into a mixer, PA system, Mixer, DI or record directly.
Just use the built-in headphone out with speaker emulation.

Once you start working with the new JOYO Bantamp XL guitar amplifiers, you will forget their physical size, the XL size is apparent in the sonic range.

JOYO Meteor UK Features
• Joyo Meteor 2 XL
• Channels: 2
• Power: 20 watts
• Preamp tubes: 12AX7
• Controls: 2x gain, 2x voice, 2x tone, 2x volume
• Switch: Ch1/Ch2, Bluetooth
• Speaker output 8 Ohm: 6.3 mm jack
• Input: 6.3 mm jack
• FX Send & Return: 2x 6.3 mm jack
• Headphone jack: 3.5 mm stereo jack
• Footswitch connection: 6.3 mm jack
• Dimensions (W x D x H): 163 x 140 x 110 mm
• Weight: 1.3 kg
• Includes UK JOYO Bantamp power supply unit, footswitch & short cab lead.
(Please note that suppliers in the EU do not provide UK power supplies for users)
cant find what you need, let us know.