JOYO Dc-15 S Guitar Amplifier With Multi Fx, Looper, Bluetooth, Footswitch & Drums
Please note that this item is only available for distribution in the UK from JOYOAudio.co.uk,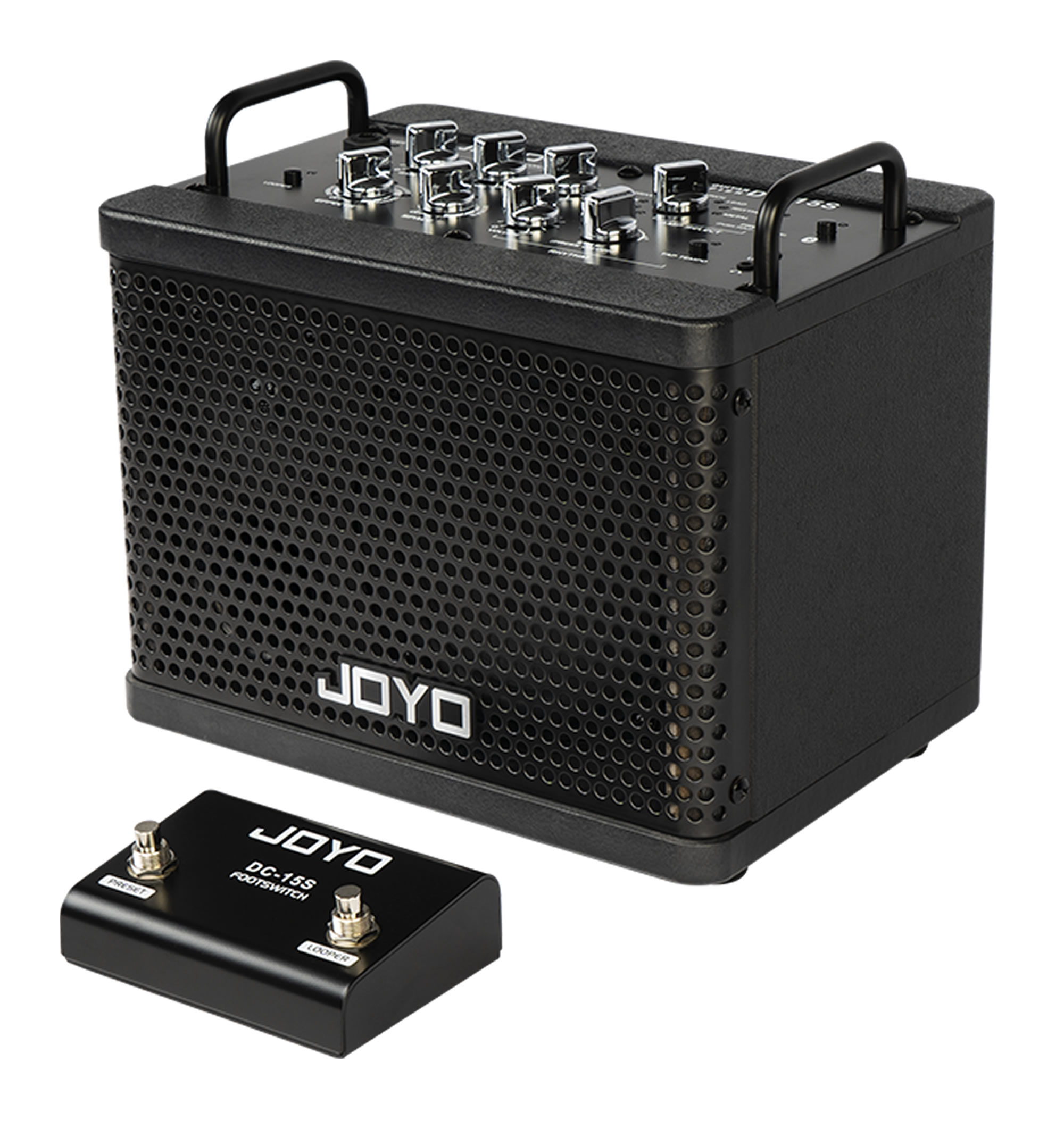 we cannot ship this product outside of UK.
The JOYO DC-15s is an upgraded version of our best selling solid state home practice guitar amplifier the DC-15. The upgraded model brings the compact combo amp into the modern day; it is fully equipped to give a guitarist everything they need in a box for at home or performing.
The JOYO DC 15S is a perfect practice guitar amplifier designed for all levels of guitaris and suitable for all genres, it is feature rich, compact in size, loud and looks cool too.
Built into the JOYO DC15s guitar amplifier you have:
9 Guitar Amplifier simulator models, classic sounding amps dedicated for making some great sounding electric guitar in one tidy combo amp.

4 Adjustable modulation guitar effects

A built-In rechargeable lithium battery for outdoor use/travel.

LOOPER with 30seconds' recording time

A Footswitch to control the Looper recording

Delay and Reverb Effects

2 adjustable PRESETS to save your tone.

Drum machine

Headphone jack to practice at full volume without disturbing others.

LINE OUT for connecting to other amps, monitors, mixers, PA & for direct recording

Bluetooth 4.0 for connecting music or backing track to jam along to.

A Built-in portable device audio interface for iOS & Android devices
9 Guitar Amplifier models dedicated for great sounding electric guitar
There is much more to just clean and overdrive, you can select any of the 9 amplifier modes by rotating the AMP switch.
ACOUSTIC Amplifier: This mode is specially designed to make the DC15 behave like an acoustic guitar amp. The acoustic setting is also perfect to use for a natural sound for other electro acoustic instruments like violin, ukulele and even keyboards!

JC CLEAN: A legendary clean tone features more mid frequency.

CLEAN: the clean tone's mid frequency has been attenuated a little bit.

OVER DRIVE: warm Vintage Overdrive tube tones.

BLUES: More harmonics with overdrive to distortion, just perfect for blues.

CRUNCH: A classic audio crunch distortion pedal.

LEAD: A rich HI-GAIN LEAD tone.

RHYTHM: Sweet mid and high frequencies achieve a high gain rhythm tone on tap.

METAL: The name says it all the extreme distortion will put you instantly into the Metal Zone.
With all of the amplifiers settings you can adjust the Gain of the selected amplifier by rotating the GAIN control. The amp's brightness can also be adjusted by rotating the TONE knob. Turn it clockwise, the tone becomes much brighter, turn it counter clockwise, the tone becomes much darker.
2 User Presets to save your favourite tone & effect settings.
Save 2 of your favourite tones to use later, press the button on the amp or press the button on the Foot switch to save all settings of your tone to your DC-15s.
You can save any tone setting and effect to your preset and you can also switch between the 2 presets in the loop recording.
4 built-in adjustable modulation guitar effects
The amp features 4 modulation effects which can be adjusted: including Chorus, Flanger, Phaser and Tremolo.
Save your favourite settings to the user presets.
2 Built-in Delay and Reverb Effects
With 2 space simulation effects you can adjust the Delay effect time interval and also adjust the Reverb effect's dry to wet ratio.
Save your favourite settings to the user presets.

LOOPER with 30 seconds' recording time
With a built in looper and foot pedal to control recording, overdub, play, undo/redo you can record loops and riffs to jam along too.
You can record half a minute of audio, with unlimited overdubs you can keep adding on more parts into the loops or leave it to play.
Make a mistake you can use the UNDO/REDO function with the foot pedal
CLEAR: In PLAY or DUB status, press LOOPER switch twice or tap it twice and keep more than 1 second, all the recorded data will be deleted; now the red Indicator Is flickering until it's done.
The LOOPER always stays in synch with the drum machine pattern you are playing.
Control the loop & call on your save presets with the supplied JOYO DC15s footpedal.
Drum Machine with 36 patterns & Adjustable BPM
The JOYO DC-15s practice guitar amplifier offers 36 drum patterns; both tempo and volume can be adjusted, making your practice or performance more enjoyable.
Choose your favourite beat and play a riff to it. It will improve your guitar playing, timing is everything. You can set the drum machine's tempo by the TAP TEMPO button.
01 Beat 8 1

02 Beat 8 2

03 Beat 8 3

04 Beat 8 shuffle

05 Beat 16 1

06 Beat 16 2

07 Beat 16 shuffle

08 Rock

09 Hard

10 Metal 1

11 Metal 2

12 Thrash

13 Punk

14 DnB

15 Funk 1

16 Funk 2

17 HipHop

18 RnR

19 Pop 1

20 Pop 2

21 Pop 3

22 Dance 1

23 Dance 2

24 Dance 3

25 Dance 4

26 Beat 3/4

27 Beat 6/8

28 Beat 5/4 1

29 Beat 5/4 2

30 Latin

31 Ballad 1

32 Ballad 2

33 Blues 1

34 Blues 2

35 Jazz 1

36 Jazz 2
LINE OUT for connecting to other amps, mixers & direct recording
Record your progress and ideas straight onto your mobile or tablet with outputs specifically designed to suit both IOS and Android operating systems. This makes it very convenient if you are videoing too, both audio and video can be captured at the same time as you play.
If that's not good enough then the JOYO DC-15s also has line out, so not only can you record straight onto your device while playing, you can also connect the amp using line out to your sound card, monitors and mixer.
You can also connect the amp to head phones to practice quietly using the headphones output.
Bluetooth 4.0 for connecting music or backing track to jam along to.
Auxin and Bluetooth music playing functions enable you to connect it to mp3, cd, or cell phone and other external devices through Bluetooth, so you can play along to your favourite song when the music starts to play.
Battery and power supply
The built in battery takes around 2 hours to charge in total. The electric guitar achieves a longer life on battery and will last for around 9 hours at full volume; the acoustic guitar achieves 4.5hours.
The JOYO DC 15 s has a built in power warning Indicator which will flash when the built-In battery is getting quite very low, if it doesn't detect a charge within 5 minutes, DC-15S will shut down automatically to avoid over-discharge.
You can use the guitar amp plugged in and the built in battery will charge up, the power Indicator becomes blue while charging when the unit Is on, the power Indicator changes from blue to red once it's fully charged.
Dimensions
Controls
LOOPER cycle recording button

Guitar Input Jack

Power indicator/battery status indicator

LOOPER status indicator

Gain control knob

Modulation effects knob

Tone control knob

REVERB/DELAY selection knob

Guitar volume knob

Drum machine volume knob

AMP selection switch

RHYTHM switch

TAP TEMPO button

TAP TEMPO indicator

PRESET indicator

PRESET switch

Bluetooth indicator

Bluetooth switch

AUX IN Jack.

Headphones Input Jack.

Power switch

DC IN 15V4APowerJack

Output Jack for devices with iOS system

LINE OUT

Footswitch Jack

Output Jack for devices with Android system
Dimensions

AC adapter input voltage:AC100-240V 50-60Hz

Weight: 4.2kg

Dimension: 25*19*23 cm

AC adapter output voltage:DC15V/4A UK POWER SUPPLY

Built-in battery:11.1 V/4.4Ah(lithium battery)

Guitar input sensitivity:-27.08dBV UN E IN

input sensitivity:-2.28dBV

RMS:15W UN E OUT Output Impedance:1KC RECORDING Output Impedance: iOS lKC; ANDROID

4.7Kn Headphone Impedance: 32rl

Speaker' s dimensions: Midrange speaker and woofer 5.25-inch/40/20W;

2.5-inch square 80/15W

Bluetooth version: 4.0

LOOPER time: 30s
Controls
DC 15s Amplifier X 1

Foot switch cable X 1

Power cable X l

Power adapter X 1

Footswitch x 1

3.5mm 4 pin cable x 1
cant find what you need, let us know.
JOYO Audio UK - Order Payment & Delivery Information
Estimated Delivery & Despatch Dates
If the items are in stock we will despatch in 1-2 working days via Royal Mail (Small Package Signed for & tracked ) or DPD,
If the items are out of stock we will advise you of a delivery time, if we are unable to confirm a new delivery time due to stock availability we will confirm this with you and refund your order at the earliest opportunity
Delivery Charges
All items are despatched from JOYO Audio UK in Manchester England. Current postage rates apply https://www.royalmail.com/price-finder .
| | | | | |
| --- | --- | --- | --- | --- |
| Royal MailSigned For® 2nd Class Parcel More details | 3 days delivery aim | Up to £50 for loss or damage | Proof of Delivery | |
Delivery Packaging
All of our items are despatched in plain packaging for maximum discretion.
A packing slip and VAT receipted invoice are included with your order.
We will also email you a PDF, invoice for your records, creating an account lets you see this information in your user area.
Delivery Options
Orders sent from JOYO Audio UK can be delivered by several postal carriers.
We require a signature on delivery so please take this into account when selecting a delivery address.

Many of our carriers will make several attempts to deliver a package and should always leave a card to notify you that a delivery attempt has been made along with details of how you can contact them to rearrange delivery. We will provide you with tracking details that can be tracked online.
Availability
All items are subject to availability and are displayed at checkout. We will inform you as soon as possible if the goods you have ordered are not available. Stock is highlighted when out of stock.
Ordering Errors
You can correct errors on your order at any point in our ordering process, either online, by email or by telephone.

Acknowledgement and acceptance of your order
If you have supplied us with your email address, we will notify you by email as soon as possible to confirm receipt of your order and email you again to confirm details. Our acceptance of your order will take place upon despatch of the product(s) ordered.
Occasionally, the despatch of your order may be delayed. This can be for various reasons such as material shortages, import delays or higher than anticipated demand. We will, of course, make every effort to keep you informed. Our stock levels are maintained in the UK and we work hard to keep maintain.
Cancellation Right - Returning
You will only be able to exercise this right if you can return to us the goods you ordered unworn, undamaged, including any promotional gifts and with all original packaging as originally supplied within 30 days of purchase.

Any refund will exclude our initial outgoing postage costs.

Failing to take care of the goods whilst in your position and returning them with any damage, may incur a repackaging & testing fee.
Proforma Payment, Pricing & Promotions
All items must be paid for before the despatch of goods. Payment of goods can be made by bank transfer, credit or debit card, PayPal and by cheque. If paying by cheque please make payable to Joyo Audio Uk Ltd and allow 5 working days for the funds to clear before the goods can be dispatched.
Special Offers can be viewed in the Retailer account area.