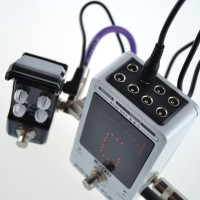 The New ‪JOYO‬ JF-18 Power Tune combines both a multi guitar effects power supply & floor tuner into one amazing product, saving space, money and eliminating noise. 6 outputs give you the standard 100ma power for your standard analogue pedals, whilst two more deliver 2 x 500ma. Tuning is a doddle too, very responsive, chromatic pick up & displayed via a very cool looking LED display, True Bypass & filtered.
Price will be in the region of £70 retail.
Available soon via JOYO Audio UK retailers on the map.
Please support your local music shops when you can, they will be happy to sort you out!
more details on the product page here >> JOYO POWER TUNE