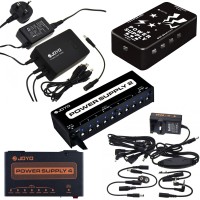 Overview : JOYO Power Supplies for Guitar effect pedals - are they Isolated or Filtered?
We have had an amazing response to the arrival of the new JOYO JF-18 Power Tuner in the UK. We've had some great feedback and initial thoughts on the Power Tuner from many users. We are just as excited about it as our many followers are, a great pedal and a great problem / space solver for the guitar effects enthusiast. A few questions were raised about JOYO power supplies and if they are isolated or are they filtered..
The same question can be found in a number of guitar forums, where there is always some debate over isolated and filtered power supplies.
Firstly, mains hum and electromagnetic interference can be emitted by any device, it is typically caused by the AC fluctuation from a mains power outlet, the hum could also be from a ground loop in your set up. Using a basic 9v power supply will not always filter out this AC fluctuation, some power supplies will work 'noise free' on some pedals but not on other pedals. Using filtered & isolated power supplies will ensure you get a noise free pedal chain.

JOYO Guitar Effect Pedal Power Supplies
- The JOYO JP-01 was the original JOYO multi power supply, first introduced in 2010 and has filters fitted to each dc output. This gives the JP-01 an advantage on combating noisy mains hum, over a typical single 9vdc supply, or a 9v dc unfiltered daisy chain.
-The JOYO JP-02 multi power supply (v 3) currently has 10 filtered outputs. Each output has its own isolated short circuit protection & over current protection. It ensures a rectified filtered supply, that is constant and noise free. It provides a constant filtered and regulated supply of power to each pedal. Whilst the JP-02 is not 'true' isolation, it performs incredibly well, filtering 'noise' out and regulating the power along with protecting each output from short circuits and an oversupply of current. No wonder it's a top seller and will power a whole board noise free!

-The JOYO JP-03 daisy chain power supply is filtered, drawing on the same principals of the JP-02. That big thing on the power chord / power supply contains the filtering. This ensures that the daisy chain provides the best regulation of current and a reduction in noise, also providing a regulated supply. Normal Daisy chains can produce the most noise as more pedals are thrown into the pedal chain. Whilst a daisy chain may solve a problem with power supply to your gear, it may attract another problem (noise). You need a filtered daisy chain like the JP03 to keep the noise down, if you combine that with quality cables you'll have a really quiet pedal chain.
-The JOYO JP-04 is JOYO's first truly isolated power supply. First you can tell by the weight. It has 8 fully Isolated outputs with short circuit & over current protection on each individual output. As power supplies go, it's as noise free, regulated and protected as you can go for powering a pedal board under £100. If you are gigging in clubs with dodgy wiring off one plug, then this is going to be a great choice for you.



- The JOYO JMP-01 is a portable guitar pedal power supply using a regulated output power design so the voltage remains stable during use. The fully portable and rechargeable battery (6600mAh), can be re-charged over 1000 times! A 2000mA output capacity ensure you'll have more than enough power for all your pedals. The JMP-01 is a centre negative power supply, however it is supplied with a polarity converter so you can power almost any pedal you want.
-The JF-18R POWER TUNE has a filtered supply which uses the same power/mains supply as the JP03. With 8 outputs and a super cool LED display, it achieves 3 of the most important fundamentals of the electric guitar. Filtered noise protection, full power to the board and you can keep yourself in tune. What else do you need? The JOYO JF-18R Power Tune is a true problem solver for any guitar effect pedals users. Congratulations to the Engineers at JOYO Tech!.