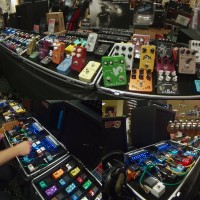 On Sunday 18th October 2015 JOYO Audio UK will be at the Cheshire Guitar Show, taking place at Crewe Alexandra Football Club.
MOJO guitar shows are great day out to buy and check out the latest JOYO guitar effects & accessories. Try them out on our demo pedal boards.
With lots of independent guitar stores, private collectors with new & vintage guitars for sale. Plus there is live music from Adam Palma & Pete Sarge Frampton.
Doors open to the public at 10.00am - ends at 3.00pm £4.00 on the door.
We hope to see you at the show, where you also have an opportunity to enter the free prize draw to win some JOYO guitar effect pedals.
Crewe Alexandra Football Ground - Gresty Road - Crewe Cheshire CW2 6EB
View a Map of where that is here..
Update - It looked like this..