JOYO Vivo Bantamp Guitar Amp Head 20W Pre Amp Tube Hybrid
The JOYO VIVO Bantamp is a solid state hybrid guitar amp head, it blends valve and solid state guitar amplifier technology, 2 channels, that come together in a tiny amp head that can produce an immense high wall of sound. The JOYO Bantamp series are arguably the most feature rich & versatile mini amp heads available at this price in the UK !
In total there are six different amps to choose from, different colours of tone and in typical JOYO style influenced heavily by the tone of legen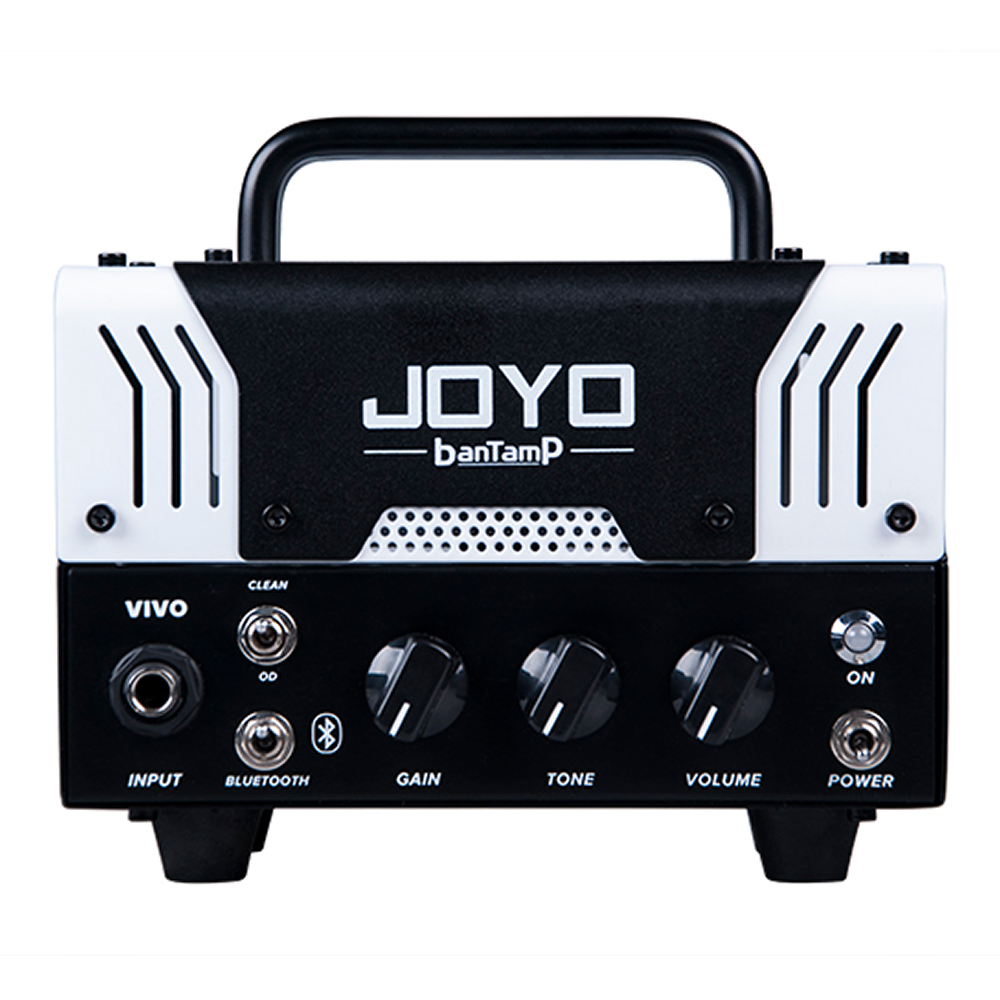 dary amps.
The VIVO is no exception, it could easily be a signature model of a legendary guitarist & will no doubt prove to be popular having two channels, a clean and a high gain overdrive / distortion channel. This amp will be perfect for guitarists of modern hard rock, hardcore punk and metal.
Preamp
The VIVO has a 1 x 12AX7 Preamp tube - The ability to reproduce the sound of the instrument was a key factor in assessing a tube for the JOYO Bantamp series. The 12AX7 pre amp tube produces the warm smooth overdrive tones that do not clip tone as a typical fixed state amp head would. The Tube Pre amp has the sonic focus of phattening tone stages and keeps your guitar sounding true to its original tone.
Clean Channel
With 2 channels flick the amp to the CLEAN channel and use with your array of guitar pedals. A two channel amp makes a guitar head twice as versatile as alternatives and a makes great companion for musicians at practice or on the road. The VIVO will keep it clean and puts everything in place for the drive of your life.
Distortion Channel
The VIVO comes alive with its high gain settings, you will hear the VIVO scream pure terror, like someone just turned the dial to 50/51..
FX Loop
The FX loop on a guitar amplifier enables you to put your modulated based effects (Phasers, Flanger, tremolo and Chorus) after the VIVO delivers its drive magic. The FX loop keeps the modulated effects pure and will prevent them from becoming muddied from the amp gain.
Bluetooth Wireless Connectivity
Pair your Bluetooth device to the VIVO and jam along to your favourite tracks, connect your external device via Bluetooth and play your audio tracks cleanly through the amps Bluetooth receiver channel. We find that this is the great way to practice guitar with and to learn new songs without a big tangle of wires.
Headphone Out with Built in Cab Speaker Amp Simulation
The amp has a speaker out rated at 8Ω and can also be operated at 16Ω.
Careful, the amp is small, but 20 Watts is loud and will deliver a handful. If you want to practice quietly, use the built in headphone out with speaker emulation, you get the same great tone as a 60watt 2x12 combo playing classic rock.
Once you start working with this amp, you will soon forget its size. You will not forget the very affordable price and amazing tone it delivers. It will feel as if you are playing through a much bigger head amp and your audience just won't believe where your sound is really coming from.
The VIVO features
1 x 12AX7 Preamp tube
Clean Channel
Distortion Channel
FX Loop
Bluetooth
Headphone Out
Built in Cab Speaker Amp Simulation
Rated power:20W / 8Ω
Speaker impedance:8Ω/16Ω
Size : 163mm x 110mm x 140mm
Weight : 1.2kg or 1200g..
Power :Connect with UK 18v/2.5a power adapter as supplied.
In the box:

1 x VIVO bantamp amplifier
1 x power adapter
1 x warranty
1 x operation guide.
cant find what you need, let us know.