JOYO Jam Buddy Electric Guitar Practise Amp - Bluetooth - 2 Channel - Delay
The JamBuddy is a fully portable floor based dual channel guitar amplifier that can be switched with your feet, perfect for practise at home or for jamming on the move, lessons or sessions with friends.

Bluetooth
A great feature on the JOYO Jam Buddy is the Bluetooth, just connect your phone/tablet with Bluetooth and you can play back to your favourite backing tracks and songs in the mix
.
Perfect for Practise
Everything is included with the JOYO buddy to jam with ! Get clean tone, add the gain, adjust the drive, tone and master volume. Listen via the two 4w speakers built in, or grab your headphones without disturbing the neighbours or family..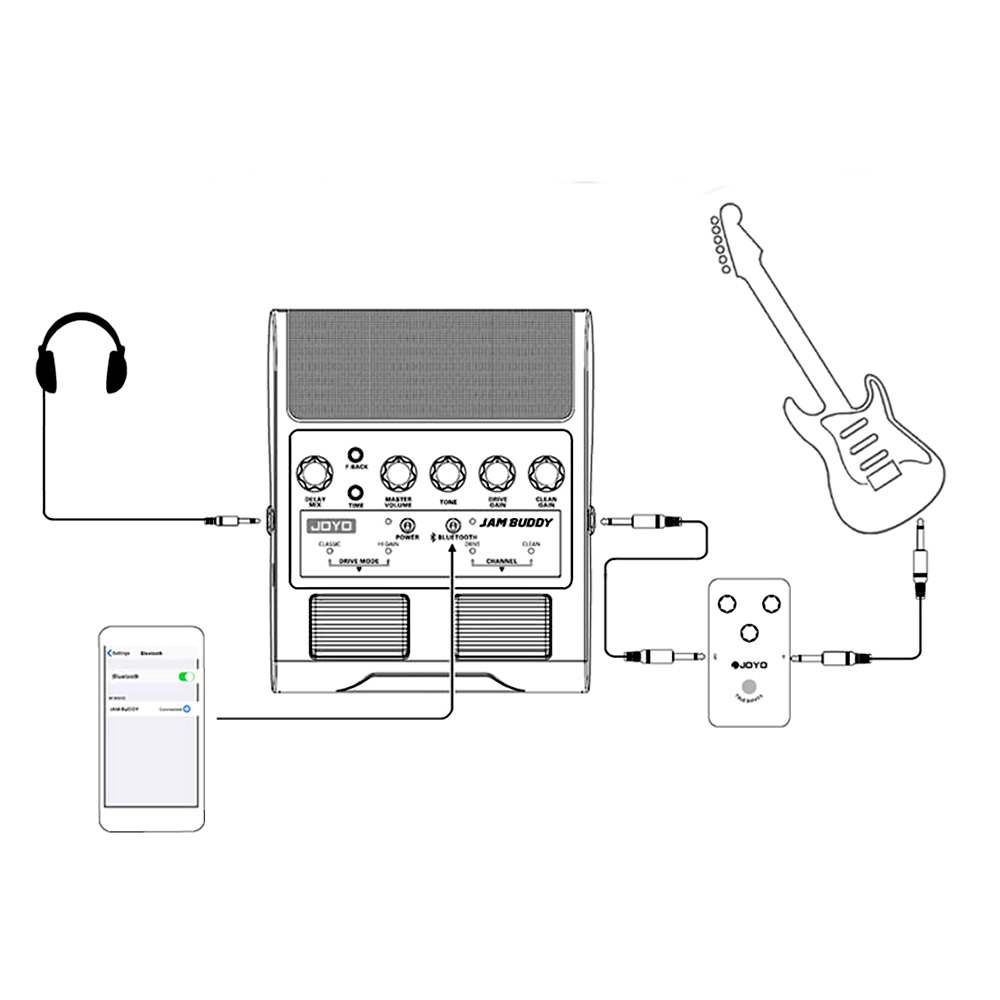 Gain 2 Channels
Clean & Gain controlled with the footswitch.
Effects
Add a little spacial effect with some great controls over the built in delay with time, feedback and mix level to adjust at your fingertips.
Rechargeable Battery or Mains Power
You can power the unit on mains, or on the move, it has got a rechargeable battery, a built in delay. You can even use guitar pedals in front of it really well. Everything you need to practice at home or away.
The JOYO Jam Buddy Features
● Guitar Amp power: 2 x 4W
● Built in Speakers
● Guitar's channel:CLEAN Channel, OD Channel (CLASSIC overdrive and HIGAIN distortion mode can be switched by the footswitch)
● Battery life: 3 hours
● Bluetooth version: 4.0
● DELAY effect control knob: TIME / MIX / FEEDBACK (500ms delay)
● Guitar effects control knobs:CLEAN GAIN/DRIVE GAIN/TONE/MASTER
● Control pedal: CHANNEL switching pedal/OD MOD switching pedal
● Input and output: Guitar input / Headphone.
● Built in battery:7.4V / 2200mAh (lithium battery)
● AC adapter output voltage:DC 9V/3A (Included)
● Weight:680g
● Size:156mm (Length) x 183mm (Width) x 75(Height)mm
● Package contains:JAM BUDDY x 1 Power adapter x 1 Power chord x 1 User manual x 1
cant find what you need, let us know.