JOYO JF-301 Rated Clean Boost Ironman Mini Guitar Effects Pedal JOYO JF-301 Rated Boost - Clean Boost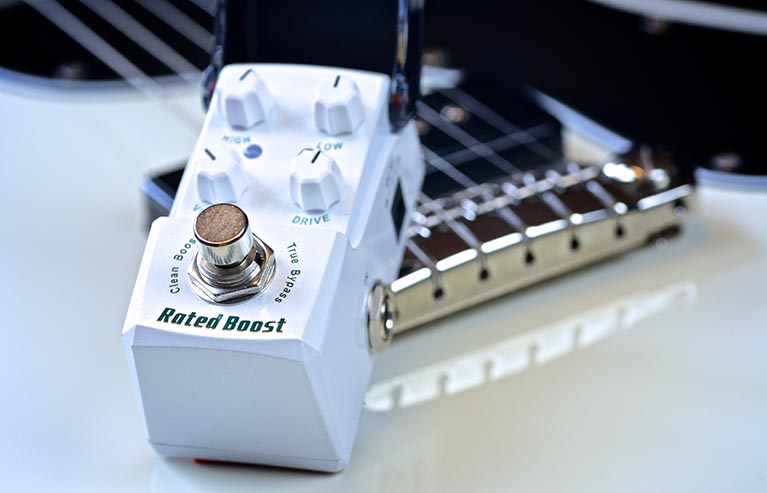 The JOYO JF-301 Rated Boost Clean Boost Mini Guitar Effects Pedal is an exceptional all round Clean Boost mini guitar effects pedal. The JF 301 Rated Boost is taken from the 3rd generation of JOYO pedals a result of 8 years of JOYO technology and expertise. Compact, versatile and with a metal housing will ensure this pedal fits easily onto any board . Flip the lid to keep your tones protected, the LEDs shine through when active.
"Similar in style to the JOYO AC TONE, a subtle overdrive like a British combo amp as it starts to clip. I recommend it with the JOYO PIPE BOMB for some subtle feedback. Plenty of scope for tone control too, so whether you favour a Telecaster Or a Les Paul,you'll get the sound you want" Matt our UK product Guru.
True Bypass Clean Boost
Output volume control
Gain Control
High frequency EQ control
Low Frequency EQ control
Specifications:
Input Impedance:1M
Output Impedance:10K
Running Current 18mA
Power:DC 9V adapter (negative polarity)
Dimensions 73(L) * 43(W)* 50(H)mm
Plug in 9v DC Adapter (not included)
JF-01 rated boost clean boost, NEW mini Guitar effects pedals from JOYO.